The Grammy award-winning San Francisco Boys Chorus was founded in 1948 to provide trained singers for the San Francisco Opera and quickly grew into one of the nation's most accomplished music education and choral performance entities. Serving the Chorus from 1996 to 2019 Artistic Director Emeritus Ian Robertson who was also Chorus Director for the San Francisco Opera built the Boys Chorus to over 220 singers from 50 Bay Area cities and more than 120 schools at locations in San Francisco, San Mateo, Oakland, and San Rafael. From 2019-2022 the chorus was led by Artistic Director Eric Choate who has provided exemplary continuation and innovation during the pandemic. In 2022 Ian Robertson will return to lead the Chorus for the 75th Anniversary season.
The San Francisco Boys Chorus has a long history of touring nationally and internationally. Within America, the chorus has performed at Carnegie Hall in New York and many prestigious locations within the greater Bay Area of San Francisco as well as appearing at the Grand Teton Music Festival in Wyoming and in 2009, the chorus was honored to sing at the Inauguration Ceremonies for President Barack Obama in Washington D.C.
Our Relationship with the San Francisco Opera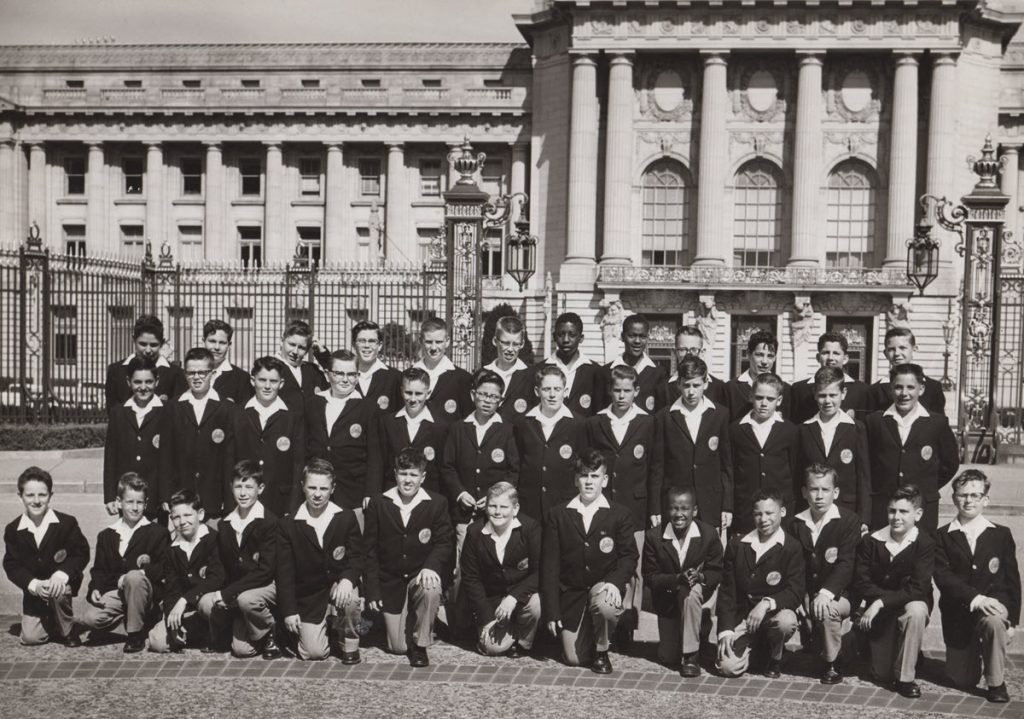 Since 1948, the San Francisco Boys Chorus has been providing trained singers for the San Francisco Opera and this tradition continues to this day. The SFBC was originally called the San Francisco Opera Boys Chorus before assuming a separate identity. The SFBC has been involved in over 180 productions over the years since 1948.
Additionally, SFBC continues to build a strong relationship with the San Francisco Opera's Education Department through the Opera ARIA School Program. As a partner, SFBC delivers a number of workshops each year to teachers and public school children in SFUSD. Designed to give participants the opportunity to hear good vocal sound up-close and explore the methods SFBC's musicianship program follows, these workshops ensure that the art of choral singing and SFBC's reach extends further than its own student body.
In the Bay Area Community
San Francisco Boys Chorus plays an integral role in the San Francisco Bay Area's music community, and for the last seven years, PBS station KQED-TV has broadcast SFBC's holiday concert. Alongside their annual spring and winter concerts, our choristers have since 1948 appeared in San Francisco Opera productions, most recently in Turandot, Carmen, Magic Flute, Tosca, and Mefistofele. Other collaborations include the Robert Moses' Kin Dance Company in San Francisco and Los Angeles, regular appearances with the San Francisco Symphony and the Midsummer Mozart Festival. The SFBC appears around town singing at Giants games, Oakland Athletics and Raiders games, and the annual Macy's Great Tree Lighting Ceremony in Union Square.
International Appearances
England in St George's Chapel in Windsor Castle, Ely Cathedral and St Margaret's, Westminster.
France in Chartres Cathedral, Notre Dame Cathedral, the Church of La Madeleine (Paris) and Marseilles Cathedral.
Hungary in Mathias Church in Budapest.
The Czech Republic in St Stephens Church in Prague.
Austria in St Stephens in Vienna and Seckau Monastery.
Italy in Lucca Cathedral, St Mark's Basilica (Venice) and St. Peter's Basilica (Rome).
Hong Kong in St John's Cathedral.
China in Shanghai Concert Hall.
Japan in Tokyo City Hall.
Russia in the Glinka Capella (St Petersburg).
Denmark in Copenhagen Cathedral.
Costa Rica in the Basilica of Our Lady of the Angels, Cartago,
Australia in performances at the famous Sydney Opera House and in St Andrew's Cathedral.
SFBC has also released a number of notable recordings over the years. These include Fauré Requiem and Messager (2010), Vivaldi: Gloria and Magnificat (2010), It's the Most Wonderful Time of the Year (2009), Moving On (2003), We're On Our Way (2000), San Francisco Boys Chorus Sings Live (2012), and Sing for the Holidays (2013).